---
"Mommy, someday I'm gonna sing for Jesus, kay?" Those were the eight words, not so quietly, whispered by a three year old girl to her mother while her father was on the platform preaching. That was the exact moment God called Leslie Woods into the ministry. Leslie knew that she was born to sing. "I've been singing as long as I can remember. Mom always told me I was singing before I was walking and talking. Adults were always asking if I wanted to be a singer when I grew up. In my own sassy way I would reply that I was going to be a singer. The two key words being, 'Was' and 'going'. In my mind there was no wanting, only that it was going to happen. Every time I signed my name I would always tell someone to keep it, because it'd be worth something someday", laughs Leslie. "In all seriousness though" she continues, "I didn't want to sing just any music, I wanted to sing Christian music. I didn't want to be like Whitney Houston or Mariah Carey. I wanted to be like Crystal Lewis and Jaci Velasquez. Seriously, 'People Get Ready' and 'On My Knees' were my jams in Junior High School."
However, between finding out she had Epilepsy (seizures) at age 14 and trying to be a normal teenager while under constant scrutiny as the pastor's daughter, Leslie definitely wouldn't describe her early life as an easy one. "In one moment, my entire life changed. All that was right in my life quickly went wrong. Rather than the happy easy-going girl that was constantly smiling, I became a resentful and bitter girl always wearing a mask. I led the classic Dr.Jekyll/Mr. Hyde life. It took me a few years and more mistakes than I can count, but God is good and was able to get it through my thick skull that I needed Him in order to make it in, and through, life without going bonkers."
Back on track with her calling, Leslie has had many opportunities and in her own words, "the honor" to sing The National Anthem in the movie "Adrenaline" starring John Schneider and Michael Rosander. That led to her singing in the PDRA World Finals race as well. "I was also greatly humbled to find out my song 'To God Alone' hit number one on the Top 30 International Christian Music Chart."
Almost thirty years later that same little girl, now says before every service, "Jesus, I'm singing for you". From the smile on her face as she ministers to those listening, to the emotion she pours out of her heart and soul, it is easy to see that Christ is exactly whom she is singing for!
---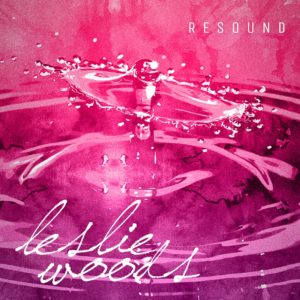 Leslie Woods, "Resound" Worship CD
$10.00
This worship CD features six songs.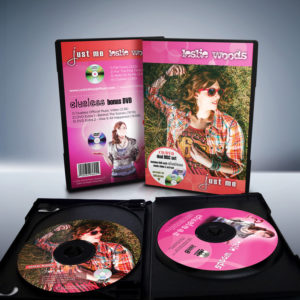 Leslie Woods, "Just Me" CD and "Clueless" DVD Combo
$15.00
The "Just Me" CD includes four songs.  The "Clueless" DVD includes more than 40 minutes of additional bonus footage, including the official Clueless music video, behind-the-scenes footage, and the story of "how it all happened."